Deepika Padukone and Sonam Kapoor are now considered to be the next star of Bollywood. These two newcomers are getting in to Bollywood through their first movie slated for release on the same 9 November. So, no doubt, there will have some hidden clash between the two newcomers. Even if not, media has created some hype over Deepika Padukone and Sanom Kapoor.

Deepika Padukone is coming with the mush awaited movie Om Shanti Om along with Shah Rukh Khan. On the other hand, Sonam Kapoor will get into Bollywood with Sanjay Leela Bhansali's upcoming movie Saawariya where she will be seen against another newcomer Ranbir Kapoor.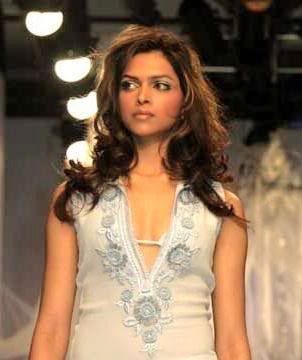 Deepika Padukone
Image Source:
Bollywood Blog
Sonam Kapoor
Image Source:
Saawariyafilm
Now, the ultimate question comes in is if there is any clash between Deepika Padukone and Sonam Kapoor. It is not possible to guess exactly what is there between them. However, it is true that both Saawariya and Om Shanti Om are the big banner movie of Diwali and both the movies are now competitor to each other. Moreover, both Deepika and Sonam Kapoor are newcomers in the industry. So, obviously there will have some competition between them. Here, I am giving some facts that will help you to decide who is better between Deepika Padukone and Sonam Kapoor and who is going to win the race.
Deepika Padukone has already got fame as a model in India with prestigious awards. However, Sonam Kapoor does not have any on screen experience before doing Saawariya.
Sonam Kapoor has earlier worked as an assistant director of Sanjay Leela Bhansali in the movie 'Black'. Thus Sonam Kapoor must have earned some direct experience of acting which might have helped her while giving the shots for Saawariya. Here, it is noted that Rani Mukherjee and Amitabh Bachchan worked in the movie Black. So, working as an assistant director in the movie, Sonam Kapoor learnt acting in a natural way. On the other hand, Deepika Padukone has no such experience.
Deepika Padukone has acted in a Kannada language movie titled 'Aishwarya' where she acted against Upendra. However, Sonam Kapoor does not have acting experience before Saawariya.
Sanjay Leela Bhansali is a famous director who has not produced any flop movie so far in the industry. Sanjay has great talent to take the best out of the actors. So, it is an advantage for Sonam Kapoor that she is starting her career with the film of Sanjay Leela Bhansali. On the other hand, Deepika Padukone worked has worked with Farah Khan, the director of Om Shanti Om. This is the second project of Farah Khan who earlier presented with hit movie May Hoo Na. However, she has not proved to so as skilled as Sanjay to be master over the characters and bring out the best from an actor.
Deepika Padukone is said to be the combination of Aishwarya Rai and Bipasha Basu whereas Sonam Kapoor is said to have the look of Rani Mukherjee. So, it seems that both the actresses have already got the tag of some famous stars.
Sonam Kapoor is the child of popular actor Anill Kapoor. So, she will have some extra advantages in her acting. Anil Kapoor will be always besides her providing help and giving direction. On the contrary, Deepika Padukone has not any such advantage as her parents have no connection to acting.
It is said that Deepika Padukone has the gifted glamour whereas Sonam Kapoor has the sense of acting. Here, it is notable that Sonam Kapoor was overweight even while working with Sanjay Leela Bhansali for the movie Black. Later she worked on her body and knocked down the extra ponds to suit the role of Saawariya.
Now, it seems that the competition between Deepika Padukone and Sonam Kapoor are going to be a big attraction of the upcoming Diwali. Both Deeepika and Sonam have the potential to become a superstar in Bollywood. However, it is not easy to predict that who is going to be the best newcomer of this year. It is not possible to say anything beforehand. However, it is true that the Deepika Padukone vs Sonam Kapoor resemble some of the previous big clashes like Madhuri Dixit v/s Sridevi. However, it will be unfair to consider Deepika Padukone and Sonam Kapoor in the place of Madhuri Dixit and Sridevi because both the newcomers have a long way to go. Now, let us see who will win the race; Deepika Padukone or Sonam Kapoor.
Source: